Get your colleagues, a group of friends, your club's or family members to join in the fun with NoseOn!

By donating €20 – 40 – 60 … via PayPal to Dr Klown, you will get ten red noses in return for every 20 EUR.
Take a photo together wearing the noses and share it on your social media and our Dr Klown Facebook page.
You would be promoting the campaign, contributing to a worthy cause and, of course, getting a few laughs out of the whole experience.
Release your Inner Clown … Take part in the NoseOn! campaign in support of Dr Klown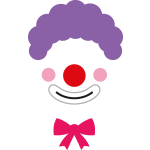 Release your inner Clown